Hundreds of Bomber Command veterans gather for centre opening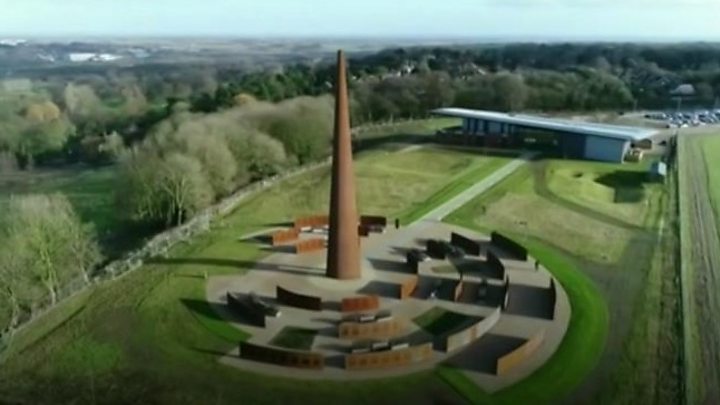 Hundreds of World War Two veterans from across the world have officially opened the International Bomber Command Centre (IBCC).
The £10m centre in Lincoln has the UK's tallest war memorial, which stands at 31m (102ft).
Up to 4,000 people had been expected at the ceremony.
Organisers said the event was likely to be the last formal gathering of Bomber Command veterans, the youngest of whom is 92 years old.
Among the 300 veterans invited to the ceremony was Geoffrey Towers, who served in the 158 Squadron. He described the new centre as "marvellous".
"We should never ever forget those young men who died.
"I'm the last of the crew now, they've all gone. I was the baby of the crew really. We were like a band of brothers - we lived together, we flew together, our lives depended upon one another. It was a marvellous relationship, never again in my lifetime like, I had such wonderful comrades."
Civilian Coby Van Reil, from the Netherlands, was just a child during the war. She said crews from Bomber Command saved her life.
Mrs Van Reil said in the final days of the war, bombing had ceased and instead food parcels were being dropped over her home city of The Hague.
The effort, called Operation Manna, meant the starving population, who had been cut off by the conflict, could eat and survive until more help arrived.
"I'm still so very thankful and it always makes me still emotional because if they hadn't come, maybe I wouldn't have been here," she said.
"So I'm forever, ever, very, very thankful."
Nicky Barr, IBCC chief executive said: "The veterans and their memories, coupled with their struggle for recognition, have always been at the heart of this project.
"From the outset, we have had fantastic support from all sectors of the veteran community and it is now our chance to thank them publicly and formally."
The centre, which took eight years to complete, includes a memorial spire, a peace garden and the Chadwick Centre, which tells the story of Bomber Command through galleries and interactive exhibits.
Bomber Command crews were tasked with attacking Germany's airbases, troops, shipping and industrial complexes connected to the war effort.
Almost half of the 125,000 personnel lost their lives and it is estimated between 300,000 and 600,000 German civilians died as a result of large-scale bombing.
Lincolnshire was chosen as the site of the IBCC because 27 RAF Bomber Command stations - more than a third of the total - were based in the county during World War Two.
Mrs Barr said the centre had, in partnership with the University of Lincoln, created a digital archive including more than 190,000 documents, photos and letters.
"It is an incredible record of heroic, inspiring and truly incredible stories which will be going live later in the year," she said.
Bomber Command
Almost a million men and women served or supported Bomber Command during World War Two
More than 55,500 men from Bomber Command died in the skies over Europe
Only 30% of those that flew reached the end of the conflict without being killed, injured or taken prisoner
Bomber Command crews came from more than 60 different countries
Every member was a volunteer
The average age of those killed was 23
Delivered the world's first airborne humanitarian mission, Operation Manna, delivering in excess of 7,000 tons of food parcels in 10 days over the west of Holland, where one million people were registered as starving
Source: IBCC