River Witham: Dead fish pollution source identified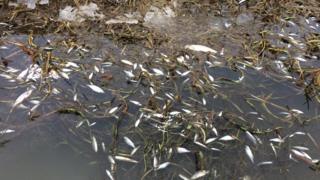 The cause and source of pollution in a Lincolnshire river which killed thousands of fish has been identified, the Environment Agency (EA) said.
Thousands of fish - dead or gasping for air - were spotted in the River Witham between Kirkstead Bridge and Bardney Bridge, near Woodhall Spa, on Sunday.
Reports of dead fish were also received from the Boston area, 20 miles away.
The EA said the pollution was due to ammonia in the waterway and its source has been found.
In a statement, it said: "We have identified the source and cause of the pollution in the River Witham, [but] due to ongoing investigations and possible enforcement action we're unable to give further details at this time."
The statement added: "As a precaution, our advice is to keep pets and livestock out of the water, not to take and use water from the river, and not to eat dead fish."
Levels of ammonia are being monitored.