Lincolnshire snow heroes: Two weddings, a baby and a funeral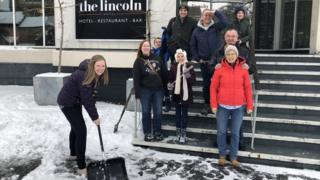 A baby born in an ambulance, a stranded groom and a funeral party are among some of those to be rescued by Lincolnshire's snow heroes.
Snow and freezing conditions has caused widespread disruption across the county, with many roads becoming impassable and villages cut off.
Drifting snow added to the misery, and police urged people not to travel unless "absolutely necessary".
But the freak weather also saw people going out of their way to help others.
On Thursday, a groom almost missed his wedding after he got snowed in.
Mike Enright was stranded about 25 miles (40km) away from the Lincoln Hotel, where he was due to wed Gina Metcalf.
Heavy snow had left Mr Enright, his parents, and best man Ben Yarnell unable to reach the venue.
But the groom arrived in time thanks to a local car dealership, which provided two 4x4s to transport him to his waiting bride.
Ms Metcalf had joked that "everyone dreams of a white wedding but not necessarily the one I'm going to get".
East Midlands Ambulance Service thanked a gritter lorry driver who came to the aid of a woman who had given birth in an ambulance, which then became stuck in snow on a hill in Stamford, in the early hours of Wednesday.
Operations Manager Richard Hunter said: "It's not a normal experience for us to deliver babies, but then to get stuck in the snow made it even harder for us.
"Thankfully, a gritter driver came to our rescue and towed us to the top of the hill so we could get mother and baby to hospital to be checked out."
Later the same day, motorists helped push a hearse after it got stuck in the snow on Canwick Hill, in Lincoln.
Sandra Revell, whose husband Tony was being cremated, said she was extremely grateful for all the help.
She said: "It was such a sad day of course, but if Tony was looking down he would be laughing his head off."
The inclement weather also brought an unexpected bonus for a wedding in Skegness on Thursday.
The BBC Concert Orchestra was stranded at the Crown Hotel in the resort following a performance.
They heard a wedding was taking place in the hotel and decided to provide some surprise entertainment for the happy couple, Lisa and Reece Brown
They were treated to several tunes by 10 members of the 65-piece orchestra.
Orchestra manager Alex Waldren said: "We heard you playing Pachelbel's Canon on record when you arrived; well, we'll give you the real thing, live, right here."