Military funeral held for Warrant Officer Nathan Hunt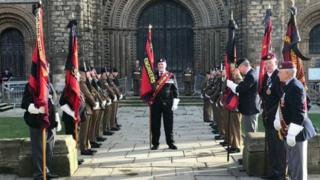 A military funeral has been held at Lincoln Cathedral for a soldier who served in Afghanistan with Prince Harry.
Warrant Officer Nathan Hunt, a married father-of-one, was found dead by police at his Lincoln home on 2 January.
He had previously been diagnosed with mental health issues linked to combat stress.
His parents have said they want his death to help "end the stigma of post-traumatic stress disorder".
WO Hunt served in Helmand Province in Afghanistan in 2008 after being attached to the Household Calvary and was part of a desert reconnaissance unit involved in identifying Taliban roadside bombs.
He was awarded a Mention in Dispatches for his courage in locating improvised explosive devices.
An inquest into WO Hunt's death opened at Lincoln Coroners' Court on 23 January and was adjourned until 21 June.
During the inquest, his father, Derek Hunt, said: "I don't see Nathan's death as any different to if he had been shot on the battlefield.
"He is a casualty of war. He saved hundreds of lives during his career in the Army and if his death can do the same then that would be a fitting tribute.
"We have to end the stigma that comes from post-traumatic stress disorder."