Secret drawer jewellery sells for £10,000 at auction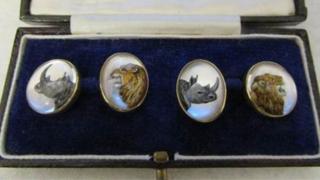 Jewellery found by an auctioneer in a secret drawer in an old chest has sold for almost £10,000.
The chest came into John Taylors auction house in Louth, Lincolnshire, as part of a deceased person's estate.
Staff noticed a hidden drawer which contained about 30 items of jewellery, most with animal pictures on - called reverse crystal intaglios.
Half of the items were sold at the auction, including a pair of cufflinks which made £2,000.
Read more stories from Lincolnshire
Auctioneer James Laverack said reverse crystal intaglios were a popular form of jewellery "for both gentlemen and ladies in the late Victorian and Edwardian period".
"They use natural crystal to form a lens and then carved out the underside and then painted it, to give a 3D image of dogs, tigers, rhinoceroses," he added.
The chest of drawers sold for just £45.
The remainder of the items are due to be auctioned on 6 March.