Gainsborough trolleys: 'Up to 70' dumped in town daily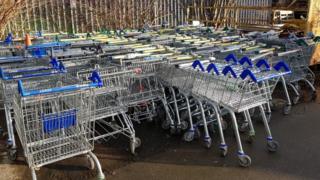 Up to 70 supermarket trolleys are being found abandoned in one Lincolnshire town every day, according to a local council.
Councillor Trevor Young said the growing number of trolleys being dumped in Gainsborough was a "real concern".
West Lindsey District Council is consulting on a plan which would see supermarkets fined £75 for each one found by council workers.
It said similar schemes had worked in other parts of the country.
More news from around Lincolnshire
"In the Gainsborough South West ward in particular it has been a growing issue over the last two or three years really, and on a daily basis we have seen up to 60 or 70 trolleys abandoned all over the ward," Mr Young said.
"They are either in streets, at the rear of properties or just left in people's gardens, which is very unsightly."
The proposed scheme would see each trolley found in Gainsborough being seized by the council and taken to a depot for storage.
If claimed by a supermarket it would be returned for a £75 charge, increasing to £100 if no payment is made or if it goes unclaimed.
Consultation is open until 26 February and details of the scheme can be found on the council website or in the reception at the Guildhall.
Gainsborough is a town north west of Lincoln and has a population of just over 22,000.