Teachers who tackled an armed boy are praised by judge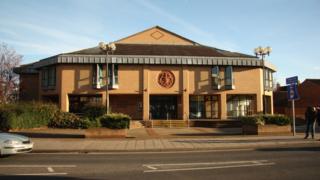 A judge has commended the bravery of teachers who disarmed a boy after he went into a Lincolnshire school armed with an air rifle and axe.
The boy, 13, was tackled by staff after firing one pellet into the ground, Lincoln Youth Court heard.
Sentencing him, District Judge Peter Veits said: "They had no way of knowing what was in your mind, and if they were risking their lives."
The boy, who cannot be named, was given a 12-month referral order.
More on this and other local stories from across Lincolnshire
He previously admitted possessing weapons with intent to cause the fear of violence.
Judge Veits told the boy: "On the face of it these are a very worrying offences, but I have to remind myself you are not charged with offences related to terrorism.
"You are charged with possession of a weapon, but it is an air weapon.
"You have no previous convictions, so it is your first time in court but I still have to look at the justice in this case."
He told the boy there were "worrying aspects" to the case, including "why you went in to school that day with an air weapon, sparklers, gaffer tape and the rest".
Judge Veits added: "You say you intended to frighten not hurt people, fortunately you did not hurt anyone."
The boy, who has been on remand since the incident, will now be subject to "high level supervision", Judges Veits said.
He also made a destruction order for the weapons and other items used by the boy.