Jewellery 'worth £15,000' found in Louth chest's secret drawer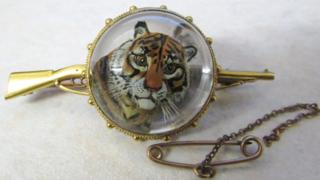 An auctioneer found jewellery worth an estimated £15,000 in a secret compartment of an old chest of drawers.
The drawers came into John Taylors auction house in Louth, Lincolnshire, as part of a deceased person's estate.
Staff noticed a hidden drawer and about 30 boxes of jewellery, most with animal pictures on called reverse crystal intaglios, were found inside.
Auctioneer James Laverack said the chest was expected to fetch about £100 and the jewellery up to £15,000.
More news from around Lincolnshire
"You could just see in the frieze below the top there were a couple of lines, and my first thoughts were maybe there is a secret drawer," he said.
"So I opened the top drawer and inside there is a little wooden spring and when you push that up it releases a secret drawer in the centre.
"As I worked it open, I saw these jewellery boxes and I took one out and then another one out, and then another one, and in the end there was possibly 30 of them.
"We are used to finding secret drawers but usually they are quite disappointing, there is an old penny, some stamps, a piece of string inside. This one was quite something else."
The auction house director added: "Predominantly they were what we call reverse crystal intaglios, which were a popular form of jewellery for both gentlemen and ladies in the Late Victorian and Edwardian period.
"They use natural crystal to form a lens and then carved out the underside and then painted it, to give a 3D image of dogs, tigers, rhinoceroses."
The auction will be held on 30 January.