Lincolnshire hare coursing: Seized dogs to be rehomed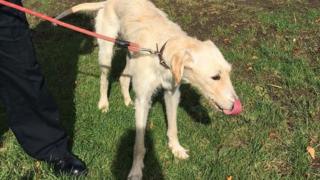 Two dogs which had been used in illegal hare coursing have been rehomed.
The lurchers, Lucky and Spencer, were seized by police in Lincolnshire when their owners were arrested for hare coursing in Digby Fen last September.
John Langan, 31, of Great Ayton and Thomas Jaffray, 34, of Middlesbrough, were found guilty at Lincoln Magistrates' Court last Friday.
Police said it was the first time hare coursing dogs were rehomed rather than returned to their owners.
Lincolnshire is popular with hare coursers due to its large areas of flat open farmland, and police in the county dealt with 2,000 calls during the 2015-16 season.
More news from around Lincolnshire
The dogs are being cared for in a kennel where they have been since the offenders were arrested, and will soon be rehomed.
Langan and Jaffray were fined £180 and £300 in costs respectively and a £30 victim surcharge each. Both were disqualified from driving for two months and banned from being on private land in Lincolnshire with lurchers or similar dogs.
Ch Supt Mark Housley said: "People living in urban areas wouldn't believe how bad this is - it's soul destroying for farmers and their families, many of who I know have struggled to sleep at night because of threats made by hare coursers.
"The welfare of the dogs is also very important to us. Only a week ago we came across a dog that had been left in a field to die as the hare coursers left her so they could escape from police officers."
---
Hare coursing
Coursers often use binoculars to spot hares
Dogs - usually greyhounds, lurchers or salukis - are on a slip lead threaded so it can be easily released
Coursers will walk along the field to frighten the hare into the open
The dog catches the hare and kills it by "ragging" it - shaking the animal in its teeth
The dead hare is usually left in the field or thrown in a ditch
Since 2005, hare coursing has been illegal throughout the UK
Source: Lincolnshire Police