George Boole: Bronze statue to honour Victorian coder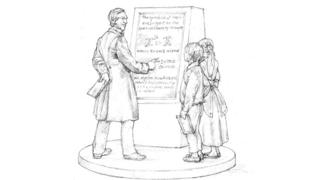 A Victorian mathematician whose work is in every computer, smartphone and digital device is to be honoured with a statue in his home town.
George Boole, who was born in Lincoln in 1815, invented Boolean logic, a system of AND, OR or NOT statements.
If approved, the bronze artwork will be placed at the city's new transport hub.
The design, by sculptor Antony Dufort, has been submitted by the Heslam Trust which said the mathematician should be "remembered with pride".
More on this and other stories from across Lincolnshire
In a statement supporting the planning application, it said: "The contribution George Boole made to computer science has been recognised globally by naming a crater on the moon after him.
"It was acknowledged by Alan Turing at Bletchley Park during World War Two that Boolean logic led them to the design of the computer which eventually broke the Enigma Code and is estimated to have shortened the war by two years.
"We feel the city of Lincoln should acknowledge that this important man was born here in Lincoln and remembered with pride."
Other Lincoln sites already commemorate the mathematician: a Boole memorial window in the cathedral, a plaque on his Pottergate house and a mention on an obelisk to city greats in St Marks.
Boolean logic
According to Michael Dunn of Gospelware, an iOS and Android developer, almost every other line of a computer program has a Boolean statement in it.
Boole, dubbed the grandfather of the digital age, had a notion of the impact his logic could have.
He told a friend in 1851 that his creation could be "the most valuable, if not the only valuable, contribution that I have made or am likely to make to science and the thing by which I would desire if at all to be remembered hereafter".