Lincolnshire Police dog policy 'reducing hare coursing'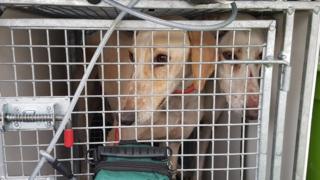 A police team set up to combat hare coursing in Lincolnshire has said its policy of seizing dogs is helping to reduce offences.
In December, there were 324 incidents of hare coursing, compared to 413 over the same period in 2016.
Since the season started in September, Lincolnshire Police has seized 49 dogs.
Ch Supt Mark Housley said: "We have heard from other forces that hare coursers tell them they will not visit Lincolnshire because we seize dogs."
More on this and other stories from across Lincolnshire
The force seizes dogs if someone is caught hare coursing in the county, and has recently started seizing dogs temporarily if there is not enough evidence for a prosecution.
Last month police force seized three dogs from a car at Holbeach St Johns, in the south of the county.
The men had travelled nearly 200 miles from Bishop Auckland, near Darlington, and told police they were in Lincolnshire to "walk their dogs".
One was arrested, and later de-arrested, for refusing to give his details when he was told his dog would be seized.
Police said the reaction of the dogs' owners showed the policy was working.
Ch Supt Housley said any seized dogs were cared for in kennels and could be put up for re-homing if ordered by the courts.
---
Hare coursing
Coursers often use binoculars to spot hares
Dogs - usually greyhounds, lurchers or salukis - are on a slip lead threaded so it can be easily released
Coursers will walk along the field to frighten the hare into the open
The dog catches the hare and kills it by "ragging" it - shaking the animal in its teeth
The dead hare is usually left in the field or thrown in a ditch
Since 2005, hare coursing has been illegal throughout the UK
Source: Lincolnshire Police
---