Norton Disney rendering plant: Protesters march against plans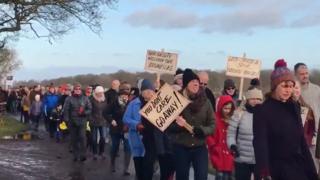 About 300 people have joined a protest march against plans for an animal rendering plant in a Lincolnshire village.
Lincoln Proteins has outlined proposals to build the £28m factory near Norton Disney.
If approved, the new facility would replace a similar plant owned by the firm in nearby Skellingthorpe.
Protesters said the existing factory had caused Skellingthorpe to be dubbed "Smelly Skelly".
However, the company said technology would remove any odours at the proposed plant at Villa Farm in Norton Disney.
Thousands sign petition
A Lincoln Proteins spokesman said: "We have openly engaged with the local community and we are of course aware of the strength of feeling that surrounds the proposals.
"However, we feel that these views are based on perceptions of the old Skellingthorpe plant of some years ago and not on the very latest, state-of-the-art plant and processes that form our plans for Villa Farm."
The site will take animal remains from the meat industry and turn them into tallow for cosmetics and protein feed for animals.
More than 3,600 people have so far signed an online petition opposing the plans.
Vanessa Hall, chair of Norton Disney Parish Council, said: "We do not want this factory in the rural area of Norton Disney or in any rural area - it should be on an industrial site.
"It's going to smell. Even though they say there won't be a lot of smell they can't guarantee there won't be, and there's going to be a lot of traffic movement off the A46."
Sophie White, who has a farm next the proposed site, said: "First and foremost I think it will have a dramatic effect on local businesses, secondly it is right next door to an archaeological site and thirdly the smell is an issue."