Legionnaires' tests after Lincoln Prison death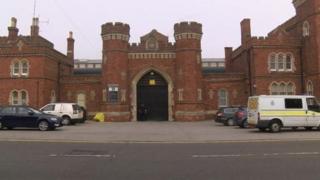 Specialist teams are investigating a possible case of Legionnaires' disease after a man died in Lincoln prison.
Graham Butterworth, 71, died in custody on Monday at the jail, which can accommodate 738 inmates.
Shower areas on one wing of the four-wing Victorian prison have been isolated and water samples sent for testing.
There will also be an independent investigation by the Prisons and Probation Ombudsman.
More news from across Lincolnshire
A spokesperson for Public Health England (PHE) said it, along with HMP Lincoln, the Ministry of Justice (MOJ) and other health partners, was investigating to see whether it was a case of Legionnaires'.
It is understood no other prisoners have shown symptoms of the disease.
Legionnaires' disease
A potentially fatal lung infection caused by legionella bacteria
It is not contagious and cannot be spread directly from person to person
It is caught by breathing in small droplets of contaminated water
Initial symptoms include a high fever and muscle pain
It is treated by intravenous antibiotics
Legionella bacteria are commonly found in sources of water, such as rivers and lakes, which sometimes find their way into artificial water supply systems
NHS advice is that large buildings such as hotels, hospitals and office blocks are more vulnerable to legionella contamination because they have larger, more complex water supply systems and the bacteria can quickly spread
Legionnaires' disease is three times more common in men than women and mostly affects people aged over 50
An estimated 10% of people who contract the disease will die from complications arising from infection
Source: NHS