Lincoln Cathedral's Great Tom out of service after 'funny turn'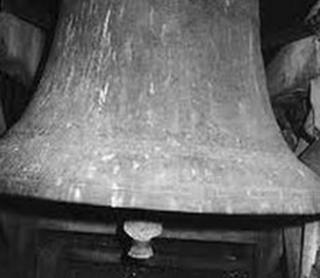 The bell that strikes every hour at Lincoln Cathedral has fallen silent for only the third time since World War Two.
The cathedral posted the news on social media earlier, saying Great Tom had taken a "funny turn" in sympathy with Big Ben.
Works manager Carol Heidschuster said: "The bell itself it fine - it's the clock mechanism that's the problem."
She said it suddenly decided to chime the wrong hour, at the wrong time.
More on this and other stories from across Lincolnshire
The bell has now been taken out of service until the problem can be fixed.
Mrs Heidschuster said: "We are not quite sure what the problem is and are waiting for the specialist engineers to come out and have a look at it."
She said the bell was expected to be out of action for at least the next two weeks.
It is only the third time the bell has fallen silent since World War Two.
The first time was in 2005 during filming of the Da Vinci Code, which was used as a location by director Ron Howard.
This was followed by another instance in 2011 when a fault was found with the clapper in the bell.
Mrs Heidschuster added the bell, which has been ringing since 1835 and chimes 40,880 times a year, had stopped in sympathy with Big Ben.
In August, Big Ben fell silent for major repair work expected to last until 2021.
It can still be used for special occasions, including New Year's Eve and Remembrance Sunday.
The decision was taken to silence the chimes of Big Ben to protect workers' hearing during restoration works.