Fly-tipping costs Lincolnshire councils £2.5m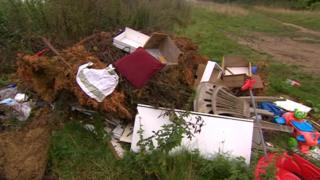 Councils in Lincolnshire have spent £2.5m dealing with fly-tippers over the last five years, but only recovered £25,000 in fines and other penalties.
The figures from the Department for Environment Food and Rural Affairs (Defra) show 35,000 cases of fly-tipping in the county since 2012.
However, only 87 people were forced to pay any penalty over the same period.
One authority said it had recently introduced covert cameras to try and tackle the problem.
More on this and other Lincolnshire stories
The figures show that the county's seven district councils spent £2m clearing up the waste and £500,000 trying to find offenders.
The policy on dealing with fly-tippers varies from council to council.
East Lindsey District Council said it did not issue fines or fixed penalty notices, preferring to take fly-tippers to court or send warning letters.
Neighbouring North Kesteven Council said last year it spent £30,000 investigating and prosecuting offenders, resulting in 19 people being issued with fines.
'Catch people'
Boston Borough Council said it had introduced new covert CCTV at "hotspots".
Jenny Moore from the authority said that the introduction of the cameras was in response to an increase in fly-tipping.
"There was one particular lay-by where over a period of eight months we had 53 fly tips," she said.
"We are looking at putting overt cameras with signage out at more remote locations to see if we can catch people, too."
Ms Moore said the cameras had led to four fines being issued in the last week alone.