Plans to retain Louth Livestock Market approved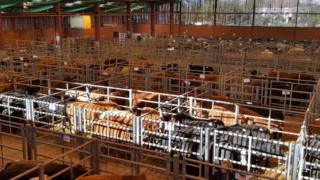 Plans to refurbish Louth Livestock Market and keep it on its current town centre site have been approved.
The market, which dates back to the 18th Century, faced an uncertain future with a number of proposals, including its sale, put out to public consultation.
East Lindsey District Council announced it would withdraw from the sale of the site at a meeting on Wednesday.
The authority will look at how the site can be utilised on non-market days.
The council, which has a legal obligation under the Royal Charter to provide a livestock market in the town, said it had listened to the community in making its decision.
However, councillor Adam Grist, portfolio holder for rural affairs, said the site was "significantly underused" and it would necessary to use it for a wider range of purposes in the future.
The market, which currently operates on a weekly basis, is run by Louth Market Auctioneers.
They said the market was vital to the future of the town and the wider rural economy.
Almost 3,500 people, 84% of consultation responses, backed proposals to keep the market at its current location and refurbish it.