More boxes found in Lincolnshire mustard gas search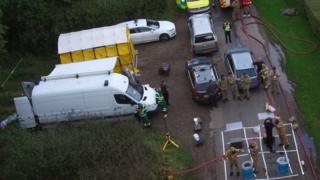 Police investigating the discovery of mustard gas canisters in woodland say they have found another 11 boxes that may contain the substance.
Royal Navy and Army bomb disposal teams are working with the emergency services to search Roughton Moor Woods near Woodhall Spa, Lincolnshire.
It comes after two people suffered minor burns after gas canisters were unearthed on 1 October.
Police said the boxes would be examined and searches were continuing.
Insp Phil Baker said searches at the nearby lake in Stixwould were also ongoing.
He said a meeting would be held at Petwood Hotel on Thursday to update the public.
"We can allay any fears, people can ask questions and it's just to serve as an update for those with worries and reassure people that we won't release the woods until it is safe," he added.
A woman and two men were arrested and bailed on suspicion of possessing a noxious substance after the initial find earlier this month.
The canisters found at Roughton Moor are believed to be from an RAF station and military base which was on the site from 1942 until it closed in the late 1960s.
Mustard gas was used as a weapon during World War One and outlawed by the Geneva Protocol of 1925.
The people burnt when they unearthed canisters had been digging for vintage bottles in the woods.