Drink-drive crash PC rehired as civilian investigator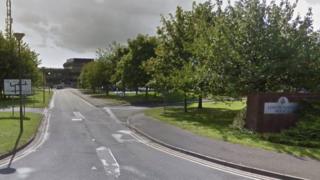 A police officer sacked for drink-driving by Lincolnshire Police is back working for the force just over a month after her dismissal.
Rebecca Stevenson, 33, was twice the legal alcohol limit when she lost control of her car and crashed into a ditch in the village of Saltfleet in July.
A police disciplinary hearing in August dismissed her for gross misconduct.
She is now working as a civilian investigator at her former station.
More on this and other Lincolnshire stories
In a statement, Lincolnshire Police said her re-employment was an "exceptional case".
"There was substantial evidence, heard in private due to its sensitive nature, that supported the view that the actions of Ms Stevenson displayed behaviour, for her, that was both exceptional and rare," the force said.
"Lincolnshire Police takes the wellbeing of its staff very seriously and believes that the public should be treated with empathy and compassion."
'Serious risk'
The disciplinary hearing was told that Stevenson was off-duty when she was found by a member of the public "staggering" in the street and wearing only a dressing gown.
When arrested and breathalysed, she initially denied being the driver but later admitted she was on her way to a caravan park when she crashed.
She had served with the force for nearly 12 years and was described by colleagues at her disciplinary hearing as loyal and dependable.
Announcing her dismissal, Chief Constable Bill Skelly said: "I cannot find what you did consistent with your role as a warranted officer.
"Both yourself and members of the public were at serious risk of suffering life-changing harm, or death."
She also appeared before magistrates in Nottingham on 18 July and was banned from driving for 18 months.