Kanwal Bernice William inquest: 'Husband could have been murder suspect'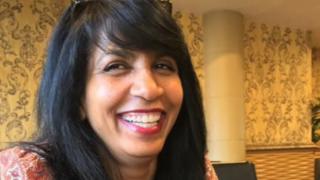 The husband of a teacher whose body was found in a storage room could have faced a murder charge if he were still alive, police told an inquest.
Kanwal Bernice William, 50, from Lutton, Lincolnshire, was found on 9 April and later indentified by her DNA.
She was discovered two days after her husband, Lawrence William, 49, was found dead at their family home.
Coroner Paul Cooper concluded an open verdict on Mrs William, and ruled that her husband had killed himself.
Referring to Mr William, Det Insp Karl Whiffen, of Lincolnshire police, told the hearing that the "threshold for a criminal charge would have been met".
He said: "The exact charge cannot be ascertained. It could have been anything from preventing the lawful burial of a body through to manslaughter or murder."
More on this and other local stories from across Lincolnshire
Mrs William was the daughter of a former Archbishop in Pakistan. Her body was discovered hidden inside the storage room at the property, covered in a cloth. Her legs were wrapped in a jacket and a black bin liner was placed over her feet, the inquest heard.
Police believe her body may have been left there for about a fortnight after she was last seen alive on 25 March.
Officers searched the five-bedroom house after her husband was found hanged in the home by the couple's eldest son.
Their youngest son Ben, 19, told Boston Coroners' Court he believed his father had killed his mother, and that his father was accused of having an affair during arguments.
He said his mother was afraid of bankruptcy as they could not afford the mortgage repayments on their £400,000 home, and she had talked of leaving her husband.
A pathologist was unable to determine exactly how Mrs William died.
Addressing the dead couple's sons, coroner Mr Cooper said: "Something obviously happened between mother and father. She is the truly unfortunate victim in this. If the father had survived he would have been arrested and charged.
"I cannot look at the medical evidence for help. The only conclusion I believe I can come to in relation to your mother is an open verdict. We will never really know how she came to her death."
The inquest heard evidence that Mr William had lied to family and friends about his wife's whereabouts.
He was believed to have sent text messages from her phone pretending to be her, the hearing was told. The family believed Mrs William had been away staying with friends.