Police use drones in Lincolnshire hare coursing operation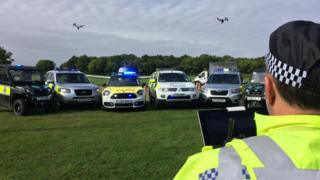 Four men suspected of setting dogs on hares have been arrested by police officers using drones.
Lincolnshire Police's Operation Galileo is an attempt to stamp out hare coursing which was reported to be "out of control" in the county.
The force said it introduced the measures to tackle what it described as the "scourge of the English countryside".
It said this was the fist time it had used the drones in a live operation.
Four men from Darlington were arrested near South Kyme on Sunday for trespassing in pursuit of game.
It was one of a number of incidents reported over the weekend.
Lincolnshire is one of the areas most frequently targeted by coursers - police in the county dealt with 2,000 calls during the 2015-16 hare coursing season.
Chief Constable Bill Skelly said the introduction of drones would prove useful in gathering evidence to put before the courts.
Some farmers have also previously said areas of the county resembled the "Wild West" after an escalation in the level of violence used by coursers.
Last week, a lurcher-type dog had his leg amputated after being left for dead by hare coursers down a country lane, the RSPCA said.
Mr Skelly said evidence gathered by drones would help "bring about a better result for our rural communities... and the right convictions for the worst offenders".
Traditionally offences start to rise in the autumn after crops have been harvested, and continue until the end of the season in spring.
---
Hare coursing
Since 2005, hare coursing has been illegal throughout the UK. The Hunting Act 2004 makes it an offence to hunt wild mammals with dogs
The dogs - usually greyhounds, lurchers or salukis - are on a slip lead, threaded so it can be easily released
The coursers will walk along the field to frighten the hare into the open
The dog catches the hare and kills it by "ragging" it - shaking the animal in its teeth
The dead hare is usually left in the field or thrown in a ditch
Source: Lincolnshire Police
---