Dog 'left for dead' by illegal hare coursers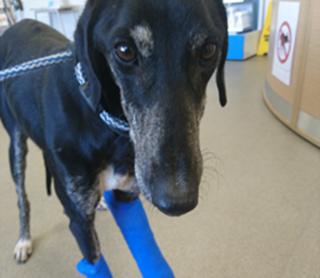 A lurcher-type dog has had his leg amputated after being left for dead by hare coursers down a country lane in Lincolnshire, the RSPCA has said.
The male dog - who was found with a broken leg - was tied to a bush with baler twine in such a way that he was unable to lie down.
This meant he was at risk of strangling himself, the charity said.
Red - as he has since been called - was spotted by passers-by in a remote lane in Frampton West, near Boston.
'So-called sport'
Insp Becky Harper said: "He was tied with such a short piece of twine that he was forced to stand, even with his injuries, or he would have been at risk of strangling himself."
She said: "This is a very rural area so he was very lucky to have been found."
Red was abandoned earlier this month, but the RSPCA has now launched an appeal for information which may help trace those responsible.
Ms Harper said: "Abandoning any animal is the wrong thing to do, but abandoning an animal in this way was really despicable."
"We have been told that there were hare coursers in the area that night, and given the breed of dog Red is, we believe he may be yet another victim of this cruel so-called sport," she added.
Red is described as a smooth coated lurcher, and is approximately 18-months-old.
Lincolnshire is one of the most targeted areas of the country for coursers - Police in the county dealt with 2,000 calls during the 2015-16 hare coursing season.
The force has described the coursers as the "scourge of rural England", and said it was doing everything within its power to deal with those involved.
Farmers have also reported an increase in violence towards them from coursers.
---
What is hare coursing?
Since 2005, hare coursing has been illegal throughout the UK. The Hunting Act 2004 makes it an offence to hunt wild mammals with dogs
The dogs - usually greyhounds, lurchers or salukis - are on a slip lead, threaded so it can be easily released
The coursers will walk along the field to frighten the hare into the open
The dog catches the hare and kills it by "ragging" it - shaking the animal in its teeth
The dead hare is usually left in the field or thrown in a ditch
Source: Lincolnshire Police
---