'Lonely' swan to be reunited with migrant family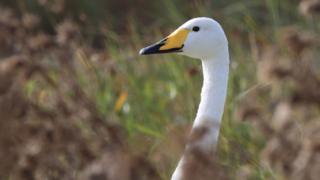 An injured swan left behind when the rest of its group migrated to Iceland in the spring is set to be reunited with them when they return this month.
The whooper swan suffered a damaged wing and was unable to make the annual 2,000-mile round trip from Frampton March Nature Reserve in Lincolnshire.
It has since been "patiently" waiting for the other birds to return.
Reserve manager John Bradley said he expected "quite a lot of whooping" when the birds meet up again.
We are family
Whooper swans - so named because of the noise they make - migrate to breeding grounds in Iceland in the spring. A group of up to 60 spend winter at the reserve.
Mr Bradley said the swans were quite family-oriented and the injured swan would probably recognise some of its friends and relatives.
"We know it can fly," he said, "but not as far as Iceland, which is an awful long way to go if you don't have to."
He said the swan would be likely to spend future summers at the reserve due to its injuries.
It has become a hit with birdwatchers, and has been seen "hanging about" with a local mute swan.
The other swans are expected to return during October.
---
Whooper swans are the same size as the more familiar mute swans, which live in the UK all year round
The two birds can be told apart by the colour of their bills
Mute swans have an orange bill, while whooper swans have a black and yellow one
Whooper swans arrive in October and stay the winter, grazing on local fields, before returning to Iceland in March
Source: Frampton Marsh Nature Reserve
---