Campaigners make point with manure at Lincoln walk-in centre meeting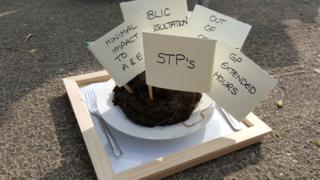 Health chiefs said they will close a walk-in centre despite opposition from protestors who brought a plate of manure to a meeting to show their distaste.
NHS Lincolnshire West Clinical Commissioning Group (CCG) said it planned to close the centre in Monks Road, Lincoln, next year.
It said shutting it would save money and avoid a duplication of services.
The CCG has pledged to promote and extend existing services.
But campaigners said they remain unconvinced and some turned up at a public meeting at Ruston Sports and Social Club in Lincoln on Wednesday, armed with a plate of manure to show their sentiments over the closure plans.
Dr Sunil Hindocha, chief clinical officer at the CCG, said: "The centre will close after the winter period subject to evidence of there being additional appointments in general practice."
He said students and mums in particular needed to be catered for and able to see a GP when needed.
Mr Hindocha said a review would take place in November.
Campaigner Elaine Smith said: "I am concerned about anything that is evidence-based to do with people's well-being.
"I think it is always difficult to produce statistics about what the impact of the closure will be."
She said there was a question mark over whether the CCG could deliver what it promised, and concerns for the people who for whatever reason do not have a GP.
In a statement the CCG said: "Our responsibility as commissioners is to get the best healthcare outcomes for the most patients we can with the resources we have available."
It said most people who used the Lincoln Walk-in Centre - which costs about £1m a year to run - could use alternative services already in place.
The closure announcement comes after widespread opposition, with 94% of almost 3,000 respondents to a consultation opposing the move.
Many said the closure would put pressure on other health services.