Lincolnshire NHS trust urges GPs not to refer patients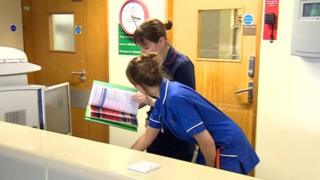 GPs in Lincolnshire have been asked not to refer patients to specialist consultants unless absolutely necessary.
United Lincolnshire Hospitals NHS Trust (ULHT) said it was experiencing significant pressure and waiting times in some outpatient departments.
The Lincolnshire East Clinical Commissioning Group (CCG) has asked GPs to find alternatives where possible.
Cardiology, neurology and ear, nose and throat departments are all affected.
More on this and other local stories from across Lincolnshire
Describing it as a temporary measure, deputy director of operations at ULHT Neil Ellis said the trust was working "to resuming a full service as soon as possible".
Tracy Pilcher, chief nurse at Lincolnshire East CCG, said: "We have asked our GP practices to, wherever possible, consider alternative providers, which may be located out of Lincolnshire."
Urgent cases would continue to be seen as normal, she added.
Special measures
However, Kieran Sharrock, a GP and medical director of the Lincolnshire Local Medical Committee, described the move as frustrating.
He said: "We don't refer people who don't need to be seen. What are we supposed to do with those people?"
Mr Sharrock added that patient care could suffer if the measures remained in place for an extended period.
Earlier this month, ULHT was placed in financial special measures by the NHS.
The trust, which runs Lincoln County, Grantham and District and Boston Pilgrim hospitals, was also placed back in special measures by the Care Quality Commission (CQC) after a report in April highlighted concerns over the quality and safety of patient care.
Grantham and District Hospital's A&E unit has been closed overnight since August 2016 because of a shortage of doctors.