Helping hand Skegness PCSO 'Just doing my job'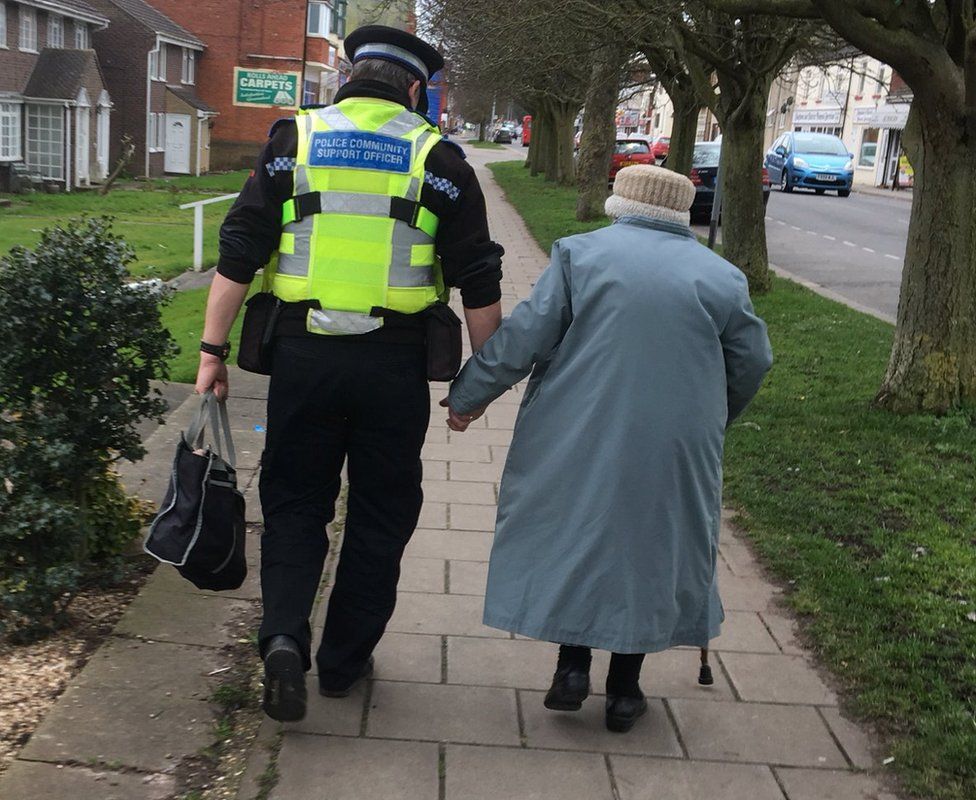 A PCSO heralded for helping an elderly woman find her way home said he was "proud" with the recognition but he was "just doing my job".
A photo of Dave Bunker, 49, taking the woman by the hand has been shared hundreds of times on social media.
Insp Colin Haigh, of Lincolnshire Police, posted the photo and a caption: "Community policing at its best."
Mr Bunker said: "I was really surprised at the reaction. I've done nothing special, it's what we do."
He said he had gone to the woman's aid after spotting her on Roman Bank, Skegness, on Monday.
"She told me she was on her way to the bus station but she must have been three-quarters of a mile away.
"I thought I would give her an hand. I offered her my arm but she chose to take me by the hand.
"We started walking but it became obvious it was too far to walk so I called a colleague who came and picked her up."
His actions have been praised online, with one Twitter user calling it "British policing at its best", while another said: "This is why we love our boys and girls in blue".
Mr Bunker, who has been a PCSO with Lincolnshire Police for more than 10 years, said: "Incidents like this happen on a regular basis. It's not just me it's other PCSOs and PCs too. We are doing things like this daily.
"Somebody on Twitter said I needed a reward but I said the smile on the woman's face was all the reward I needed."
Related Internet Links
The BBC is not responsible for the content of external sites.