Wainfleet Surgery 'kept out of date drugs and re-used single use items'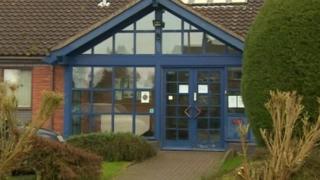 A GP surgery which closed over patient safety concerns kept out of date drugs and re-used single use items, a health watchdog report has said.
Wainfleet Surgery, near Skegness, closed in November after an inspection by the Care Quality Commission (CQC).
The report, published on Thursday, revealed a catalogue of failings, with the surgery found to be inadequate on every level.
Evidence of dirty equipment was also highlighted in the findings.
Diamorphine, which had expired in 2010, was found in a locked drugs cabinet, despite the practice claiming it did not hold stocks of controlled drugs.
Inspectors said on one occasion equipment used to carry out an internal examination was found next to a couch in a consulting room.
There was also evidence of disposable swab forceps being re-used, along with dirty equipment.
Other issues identified included:
Otoscopes - medical devices used to look into the ears - were found to be contaminated and stained
There was also evidence of used couch roll left in place after patient examinations
Recruitment difficulties
Issues with staff training, including a GP carrying out contraception implants despite not being accredited to carry out the procedure
The practice prescribed methadone under a shared care agreement with Addaction, but the report found there was "no policy or protocol in place" for prescribing the drug
About 2,200 patients affected by the closure are being offered alternative care in Skegness.
Lincolnshire East Clinical Commissioning Group, which is responsible for health services in the area, has said: "Whilst the decision to suspend Wainfleet Surgery was not ours, we are responsible for what happens now.
"Patient safety is our overriding concern, and we hope to be able to confirm what level of service we will be able to provide in Wainfleet in the near future."