Lincolnshire Police appeal for help on £98,000 benefactors' story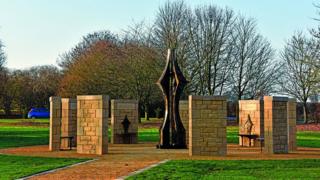 Lincolnshire Police's chief constable has appealed to the public for help in finding out more about a couple who bequeathed the force £98,000.
The money was used to build a memorial garden in honour of those who have died while in service to the force.
Lincoln couple Burt and Val Hills left the money to the force in 2015, but police chief Neil Rhodes said little else was known about them.
He said "they've made this possible" and it would be nice to learn more.
Mr Rhodes said he believed the couple had been presented with a good citizenship award in the past and had done some work with the police.
"But beyond that, very little is known," he added.
More on this and other local stories from across Lincolnshire
The memorial garden was officially opened by the outgoing chief, who retires at the end of the month.
He said that throughout his 31 years of service he had had the pleasure of working with some truly incredible officers and staff.
"Sadly, some of those I worked with are no longer with us and for that reason this garden in their memory is particularly important to me."
As well as honouring past staff, the memorial garden also remembers Robert Peel - UK policing's founding father.
One word from each of his original nine pillars of policing is carved into each of the nine stone pillars in the garden.
These are prevention, approval, co-operation, proportionate, impartiality, restorative, relationships, humility and integrity.