Spalding house fire: Victims smoked illegal cigarettes while drinking heavily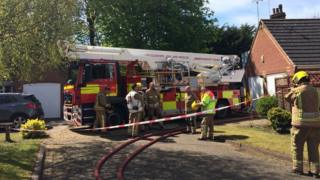 Three men who died in a house fire were heavily intoxicated while smoking illegal cigarettes, an inquest has heard.
The bodies of Sylwester Grabczewsk, 42, Marian Laczynski , 38, and Pawel Lazarewicz, 53, were found at Tower Lane in Spalding.
An inquest at Boston Coroners' Court heard "bargain" foreign cigarettes were found at the scene.
Coroner Murray Spittal recorded a verdict of death by misadventure.
The families of the men attended the inquest with proceedings relayed by two Polish translators.
The fire at Leathergate House broke out in the early hours of 1 May and was likely to have been started by a smouldering cigarette, the inquest heard.
Officers managed to rescue one of the victims but were unable to resuscitate him.
The other two men were found dead inside the property. All three died from smoke inhalation.
Peter Wiles from Lincolnshire Fire and Rescue said: "They had been drinking heavily and smoking non-standard cigarettes, so you've got a double whammy.
"A cigarette may have been dropped on the bed and left unnoticed and smouldering for some time, before causing a significant fire."
Mr Wiles said the smoke alarm in the bedroom had also been covered which would have delayed the operation of the fire alarms in the rest of the building.
Emma Milligan, principal trading standards officer at Lincolnshire County Council, said: "The illegal cigarettes featured in this case failed to self-extinguish and were the most likely cause of the fire.
"It is sad to think people who buy 'illicit whites' think they are getting a bargain, not realising they are actually putting their lives at risk."
Trading standards said many of the cheaper foreign brands were illegal in this country because they do not conform to UK safety standards.