Lincolnshire parents fight maternity care changes proposal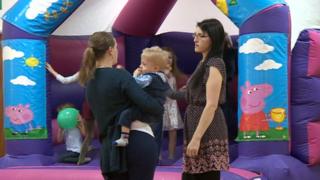 Campaigners fighting a major shake-up of maternity services in Lincolnshire say they will "not back down".
Plans to remove consultant-led services in Boston and centralise them in Lincoln due to a shortage of trained staff were revealed in a report earlier this month.
Boston Support for Neonates and Parents and Preemies (Snapps) said the move would put babies and mothers at risk.
Lincolnshire county councillors voted against the proposals on Friday.
Under the proposed changes, which includes downgrading some local A&E services at Grantham hospital, women with complicated pregnancies and premature babies would have to travel 35 miles to Lincoln for care.
Alison Marriott, whose two-and-a-half-year-old daughter was born prematurely at Pilgrim Hospital Boston's maternity unit, said: "Without the doctors and nurses who were there my daughter wouldn't have survived.
"My daughter was born floppy and blue, not breathing. She needed to be on a ventilator and without that she wouldn't have survived. She had to be delivered in 15 minutes to save her life and that also saved her from brain damage. So she's a happy, healthy child.
"We mustn't lose the unit here. There will be too many babies that will be lost."
Lead campaigner for Snapps, Emma Wilcock, who has four children, said: "Pilgrim Hospital saved my baby's life and my life, because my life was in danger also.
"Our biggest fear is mothers and babies being put at risk."
Mrs Wilcock said parents across the county "relied" on the unit and would fight to save it.
"We won't stop. There is no stopping us and we will not back down."
Andrew Morgan, chief executive of Lincolnshire Community Health Services NHS Trust, speaking on behalf of all organisations involved in the plan said it had "to make some difficult choices about how to prioritise spending in order to maximise the benefit to our whole population".