Death crash lorry driver seen eating at wheel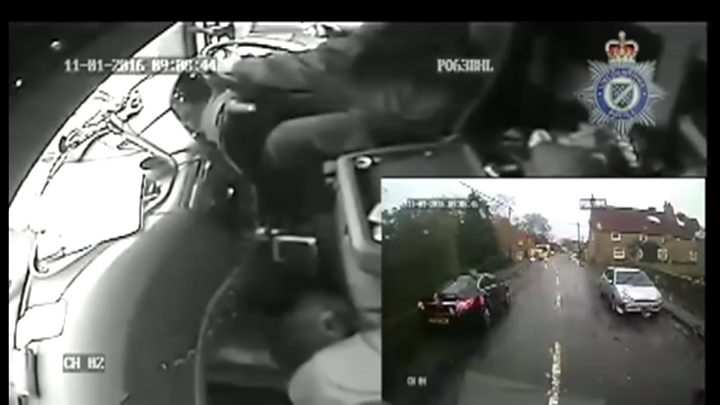 Footage showing a lorry driver eating at the wheel moments before a fatal crash has been released.
Michael Boothman, 38, was jailed for two years earlier this week after he admitted causing the death of an 82-year-old farmer and his wife, 77.
He was convicted after the recording, taken by a camera inside his truck's cabin, was seized by crash investigators.
Boothman, of Kirkstall, Leeds, admitted causing death by careless driving.
He had been eating and smoking at the wheel shortly before the crash on the B1188 at Metheringham, Lincolnshire, in January.
Snack distraction
At Lincoln Crown Court on Monday, he was also banned from driving for three years.
Clive Stockwell, prosecuting, told the court Boothman ate a snack of a sandwich and crisps while continuing to drive in the minutes before the crash.
He appeared to not be fully concentrating as he was driving with one hand on the steering wheel.
Boothman and his passenger Robert Fagg were both seriously injured. Neither was wearing a seat belt at the time.
Mr Stockwell added that Boothman was exceeding the speed limit for the road shortly before the bend where the crash happened but then dropped his speed and began to brake heavily.
He swerved across the road into the path of a Lexus driven by Brian and Ruth Dickinson, who suffered fatal injuries.
Lincolnshire Road Safety Partnership released the footage in a bid to "remind professional drivers what is expected of them.
John Siddle, from the group, said: "There are delivery drivers out there on rural roads - hundreds everyday - and if the standard of driving is anywhere near what his was we need to be very concerned.
"The driver could have stopped to have his lunch, but chose not to."