Earthquake rescue dog Holly dies aged 15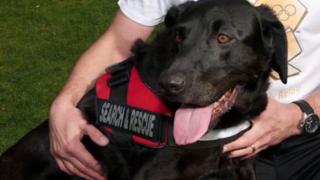 A rescue dog which won bravery awards for its part in rescuing earthquake survivors in Kashmir and Haiti has died.
Holly, a 15-year-old black Labrador, worked as part of a specialist rescue team with Lincolnshire Fire and Rescue.
Recognising her achievements, the fire service described her as "an amazing dog and colleague".
Holly worked 20 hours a day in Kashmir locating survivors buried in rubble after a huge earthquake in 2005.
She was also part of the Haiti earthquake rescue mission team in 2010.
More on this and other local stories from across Lincolnshire
Holly started work when she was 15-months-old and her sense of smell was invaluable and resulted in several people being hauled alive from collapsed buildings, the fire service said.
After retiring from international duties in 2010, Holly went on to take part in the Olympic Torch Relay in 2012 with her owner Neil Woodmansey, and was also featured on a postage stamp.
Mr Woodmansey, who helped develop the Lincolnshire Fire and Rescue's International Search and Rescue (ISAR) team, received an MBE for his life-saving work in 2011.
The same year, Holly won the Dogs Trust Golden Oldie award, aged nine. She was presented with the award by singer and TV star Alesha Dixon.
Speaking at the time, Mr Woodmansey told the Sleaford Standard: "Holly really deserves to be recognised for her incredible dedication and the number of lives she has saved.
"She is an inspiration and such a vital part of our family - we're all very proud of her."
Posting on Facebook earlier, the fire service said: "Holly, thanks for all your hard work - you will be missed by all of us."