Louth flood scheme completed on River Lud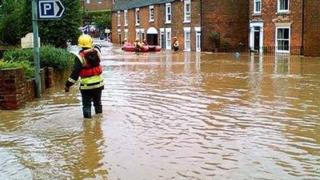 Work on a flood alleviation scheme to protect a market town badly hit by flash flooding over recent years has been completed.
Louth, in Lincolnshire, experienced some of the worst flooding in its history in 2007.
The Environment Agency said the £6.5m scheme will help reduce the risk of flooding along the River Lud.
The two flood storage reservoirs - the size of 85 Olympic-sized swimming pools - will allow water to be held back.
More on this and other local stories from across Lincolnshire
Louth Mayor Eileen Ballard said the scheme would help allay people's fears.
Speaking at the opening, she said: "I have been flooded myself, and you can't explain what it is like.
"The upset it causes is horrendous, and there is no easy quick fix."
She said the worst part was the thought it might happen again every time it rains.
Another resident, Jim Gillick, saw his house flooded twice in six weeks in 2007.
He said the River Lud at the time was dangerous and strewn with debris.
The Environment Agency said the scheme would help control the flow of the river going through the town.
However, it said people should still sign up for flood warnings as flooding can still occur from other sources.
A similar scheme to reduce the risk of flooding from the River Bain in Horncastle is expected to be completed early in 2017.
The Horncastle reservoir will be the size of 600 Olympic-sized pools, the agency said.