Lincolnshire schools leaving Serco over payment errors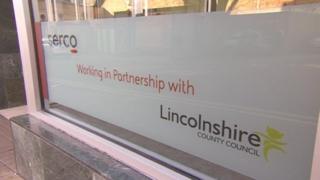 Eleven Lincolnshire schools are to stop using a payroll company claiming errors are still being made in paying wages.
Serco, which offers HR and finance support for Lincolnshire County Council, was fined more than £1m in May for delays in making council payments.
The firm, who won the £70m contract last year, said it would improve.
But schools said errors are still being made. Bishop King Primary School in Lincoln claimed 23 staff were not given their full pay last month.
Abi Tierney from Serco said schools had to give six months notice but may see improvements during that time.
Su Gordon, business manager at Monks Abbey School in Lincoln, said the school was looking elsewhere.
Unpaid bills
She said: "The head teacher and governors have discussed this quite regularly and have decided that we do need to make that decision [to end dealings with Serco].
"That would see us still being a local authority school but we would just have our payroll and HR with another company."
Delivery director Mrs Tierney said: "They're waiting to see what the improvements are but they have to give six months' notice.
"We've made it really clear that if during that time they want to withdraw (their notice), they can."
Lincolnshire County Council has been approached for comment.