Lincolnshire school asks parents for cash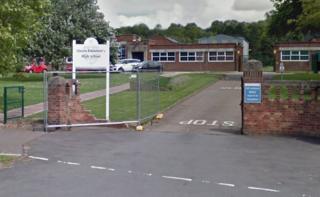 A state-run school has asked parents to make voluntary financial contributions to help "support learning".
Queen Elizabeth's High School, in Gainsborough, Lincolnshire, said it was struggling to cover the costs of the curriculum.
Head teacher David Allsop said he had "no option" but to ask parents for financial help.
The government said spending on schools was at the "highest" level ever.
Read more about this and other stories from across Lincolnshire
Mr Allsop said: "There have been big changes to the curriculum, at both GCSE and A level, and funding has been dropping year on year.
"We have only managed to assign £4 per student per year for each subject that they study and an average text book can cost £10 or £20."
Adrian Joyce from teaching union NASUWT said this was a growing trend and could lead to divided schools.
He said: "Schools will be open and transparent and they will treat children equally but the problem comes when children feel they are not able to pay and they are from a group of children who cannot pay."
'Historic unfairness'
Mr Allsop said no student would be disadvantaged if they could not afford to give.
Ken Bentham has two children at the school and said he was willing to donate.
"Every child has the right to a free education but because of what the government had done, imposing changes to the curriculum and exams, QEHS are placed in a position where they can not meet that fundamental obligation," he said.
A spokesperson for the Department for Education said: "The schools budget has been protected and in 2016-17 totals over £40bn, the highest ever on record.
"The government's fairer funding proposals will ensure that areas with the highest need attract the most funding and end the historic unfairness in the system."
Lincolnshire County Council said it was actively campaigning for "fairer funding" for schools.