Permission sought for 'rising flood house' in Lincolnshire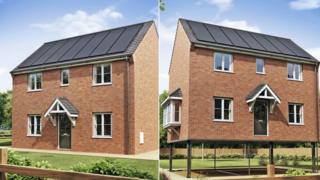 A housing company has applied for planning permission to build an experimental house that could rise on jacks above flood waters.
The design by Lincolnshire-based Larkfleet Homes can lift the property up to about five feet (1.5m) above the ground.
Larkfleet's chief executive Karl Hick said testing of a prototype had been successful.
The firm now wants to build a "live property" at Weston Hills, Spalding.
Mr Hick said the design allows the property to be raised depending on the flood risk.
He said: "Out prototype has worked wonderfully well, and there have been no issues."
"What we want to do now is get a live property with people living in it, and see how it works over a period of time."
If plans are given the go-ahead by South Holland District Council the firm hopes "to have it up and running in the latter part of 2017", he added.
---
The house that Jack raised
The house has a modular steel-frame design and can be disassembled and re-erected on another site
The jacks are capable of lifting the 65 tonne house to the full 1.5 metre height above ground in less than five minutes
Rooftop solar panels and a battery would provide the house with some continuing electricity supply when raised above the ground and the water and sewage would remain connected through flexible hoses
It is not envisaged residents would remain in the house during flood events
---