'Stuck' tractor driver electrocuted in Digby Fen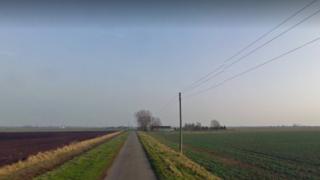 A tractor driver was fatally injured after his vehicle became stuck on an overhead cable, media reports said.
The Sleaford Standard said according to police it appeared the 18-year-old was electrocuted after getting out of his cab to try and resolve the matter.
Lincolnshire Police said inquiries into the incident, which happened on Monday, were ongoing.
The force said it was liaising with the Health and Safety Executive (HSE), and would prepare a report in due course.
The HSE confirmed it is investigating.