Boston flood barrier plan to go to public inquiry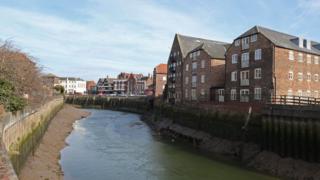 A public inquiry is to be held into plans to build a £100m flood barrier in Lincolnshire.
The Boston Barrier scheme would see a tidal barrier with a moveable gate across the River Witham, and new flood defences on the River Haven.
The barrier would reduce the risk to about 14,300 properties, many of which were badly hit by floods in 2013.
The Environment Secretary Andrea Leadsom has said a public inquiry will now be held in the new year.
Colin Davie, executive councillor for development at Lincolnshire County Council, said he was not surprised an inquiry had been ordered but believed the plans would still go ahead.
Read more on this and other stories on BBC Local Live: Lincolnshire
"The possibility of a public inquiry was always factored into the delivery of the scheme," he said.
"That inquiry will start by 4 April next year and I am quite certain that by the time that process has been held, the project will start on schedule.
"It's a huge amount of taxpayers' money going into the project, it's not a shock."
A spokesperson for the Environment Agency said: "It is important to fully discuss any large project like this.
"This inquiry will consider the views of the public and we will continue to work hard to come up with the best solution to protect against tidal flooding in Boston."
In December 2013 Boston suffered its worst flooding for 60 years.
A tidal surge burst the banks of the River Haven and sent water rushing through more than 50 streets in the town.