Overnight Grantham A&E closures to continue until February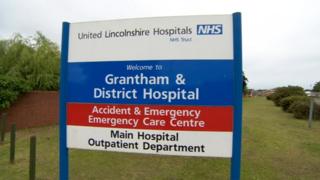 The controversial overnight closure of an accident and emergency unit is to continue until February, health bosses have said.
Grantham hospital's A&E department has been temporarily shut between 18:30 and 09:00 since August because of a lack of staff.
United Lincolnshire Hospitals Trust (ULHT) said nine extra doctors had been recruited but had yet to start work.
Campaigners claim the closures risk patient safety, which the trust denies.
Following a board meeting, ULHT said it had recruited "locums, agency staff and permanent staff" at Grantham and an additional two locum staff at Lincoln A&E, but "due to the time it takes to recruit" none had started work.
Dr Suneil Kapadia, medical director at ULHT said: "Along with Grantham people, ULHT wants to reopen Grantham A&E. But we won't do this until it is safe to do so."
"The reality is the service remains fragile and sustaining staffing rotas in the three A&Es is difficult."
He said the decision to keep the unit closed overnight came after a public consultation.
"We recognise the closure is causing worry and stress to local people as a local service is important to the community.
"Our own data shows that the healthcare system is coping with the overnight closure of Grantham A&E and that on the whole, there has been minimal impact in the number of attendances and admissions at other A&Es."
Melissa Darcey, from the group Fighting for Grantham Hospital, said: "I don't think their intention is to fully open it again but we will do everything in our power to ensure they do."
ULHT says it does not have enough doctors to staff the department safely and also maintain services in Lincoln and Boston, which see more patients.