Lincolnshire elected mayor deal plan unclear after final council vote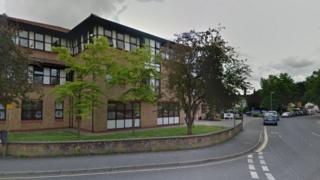 Plans for a Mayoral Combined Authority for Greater Lincolnshire remain unclear after votes by the 10 councils involved.
South Holland District Council was the last to vote, 31-3 in favour.
However, two authorities voted against - Lincolnshire County Council and South Kesteven District Council - but have yet to ratify the decision.
The deal would bring a directly-elected mayor but it needs all 10 councils to back it.
Under a mayor, the authority would oversee transport, housing, skills training and flood prevention services.
'Not convinced'
The deal was first announced by the then chancellor, George Osborne, in this year's budget.
A combined authority would be due to to receive £15m a year (£450m over 30 years) to boost growth and a guaranteed share of the money available nationally for transport.
Gary Porter, South Holland District Council leader, said if the deal did not materialise "I am sure people who want devolution will go back to the secretary of state to see what options are available".
"I would much rather the people of Lincolnshire were served by people in Lincolnshire making decisions for them, rather than have to rely on people in Whitehall", he added.
Francis Biggadike one of the councillor who voted against the deal said: "I'm not convinced there'll be any advantage to us.
"All the promised money has to be shared by all the county, it's not going to amount to a lot more."
Make up of Greater Lincolnshire area:
Boston Borough Council
City of Lincoln Council,
East Lindsey District Council
Lincolnshire County Council
North East Lincolnshire Council
North Lincolnshire Council
North Kesteven District Council
South Holland District Council
South Kesteven District Council
West Lindsey District Council