The police force looking for a leader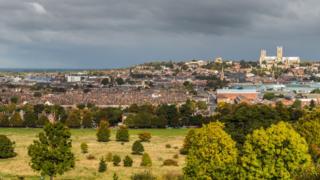 A police force in a rural part of England is struggling to find a suitable chief constable, despite casting the net as wide as the US, Canada and Australia.
Here are six things for potential police chiefs in Lincolnshire to consider when throwing their hat in the ring.
---
The salary
According to the force's annual accounts, current Lincolnshire Police chief Neil Rhodes received £146,986 in salary, fees and allowances in 2015-16. This is £3,524 a year more than the prime minister.
And it is also more than the many top police officers would earn in the US.
According to the US Bureau of Labor Statistics, the top 10% of high ranking officers earn on average $131,570 or £107,492.
Could this tempt some to move across the Atlantic?
Inspector Jon Hassall, chairman of the Lincolnshire Police Federation, said: "It may seem an attractive salary although it's actually quite low for a chief constable, as it's based on the population size of the area.
"For someone coming from the US, it might be a good wage but the cost of housing and other living costs here are more expensive too.
"I would find it inconceivable that someone could be put in charge of a British police force without experience of British policing."
For more stories from the BBC England data unit follow our Pinterest board
---
Career prospects
Is Lincolnshire a place for a chief constable to make their name? The answer, according to Mr Hassall, is probably not.
"It's a fantastic place to live, with great schools, but it's more somewhere to come at the end of your career," he said.
"It's an absolute privilege to serve here, but it's not somewhere you'd go from to run one of the big metropolitan forces."
He said it was more likely that ambitious officers with a long time left in their career would go for a role as an assistant or deputy chief constable in a larger force.
At West Midlands Police, England's second largest force, the current deputy chief constable is paid £147,500 a year - slightly more than Mr Rhodes was paid as Lincolnshire's chief constable.
---
Cheaper than average housing
Lincolnshire housing market
£229,821
Average paid for detached home in Lincoln in the past 12 months
£242,405 Average asking price for a detached house in Lincoln

£420,766 Current UK average asking price for a detached house
Thinkstock
As long as the new recruit has a deposit of at least 5%, he or she could afford to pay about £2,576 a month on a mortgage in Lincolnshire.
And that would be plenty to buy a £550,000 home, such as a six-bed detached house currently on the market in North Hykeham or a four-bedroom home in the village of Canwick, both within a half hour drive of police headquarters.
---
Below average crime
Whoever takes on the job will inherit one of the lowest crime rates in England.
Crime in Lincolnshire
48.8
crimes per 1,000 people 2015-16
18.5
lower than the England average
36,008 recorded crimes 2015-16

7,080 violent crimes
Thinkstock
---
Challenging times
Money-wise, Lincolnshire's police budget is stretched.
According to a statement on the HM Inspectorate of Constabulary website: "Lincolnshire receives the lowest central funding per head of population of any police force, some £34 less per person than the national average."
And it faces a looming challenge to keep its books balanced and have enough officers on the streets.
"Medium term financial projections indicate that the force will be challenged to sustain an adequate number of police officers to ensure public safety and a viable force beyond 2016/17 if police finance continues to be allocated on the current basis", the force says.
---
High rate of complaints
Official figures showed Lincolnshire Police had the highest rate of allegations per 1,000 employees made to the Independent Police Complaints Commission.
In 2014-15, there were 478 allegations recorded per 1,000 employees in categories such as neglect or failure in duty, incivility, impoliteness and intolerance, lack of fairness and impartiality or oppressive conduct or harassment.
The total number of complaints had also risen 46%. The figures for 2015-16 will be published in November. And if they have not come down, tackling them may fall to the new chief constable.
Rate of complaints about Lincolnshire Police
46% rise in a year
1,060
allegations recorded in 2014-15
728
allegations recorded in 2013-14
478 allegations made per 1,000 staff

279 per 1,000 staff is the average for a similar sized force
Thinkstock