Hare coursing arrests: Four men held and dogs seized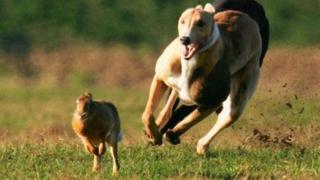 Four men have been arrested and four dogs seized by police investigating hare coursing in Lincolnshire.
One man from Middlesbrough was arrested in Horbling, near Sleaford and three men from Leicestershire and Wales were detained in the Deeping St James area.
One was bailed to a date in November and the other three were reported for summons.
A car was also seized in the operation. There were 28 incidents of hare coursing reported to police on Sunday,
They were in the south Holland, Bourne, Deeping and Sleaford areas.
More on this story and others at BBC Local Live: Lincolnshire
The arrests come a month after Lincolnshire Police set up a team to combat the problem as part of its annual clampdown.
Traditionally, offences start to rise in the autumn until the spring, after crops have been harvested.
Officers from Lincolnshire were joined by teams from the East Midlands and Northamptonshire, Leicestershire and Cambridgeshire.
---
Hare coursing
Coursers often use binoculars to spot hares
The dogs - usually greyhounds, lurchers or salukis - are on a slip lead threaded so it can be easily released
The coursers will walk along the field to frighten the hare into the open
The dog catches the hare and kills it by "ragging" it - shaking the animal in its teeth
The dead hare is usually left in the field or thrown in a ditch
Since 2005, hare coursing has been illegal throughout the UK. The Hunting Act 2004 makes it an offence to hunt wild mammals with dogs
Source: Lincolnshire Police
---