Mablethorpe beach huts set for £110,000 makeover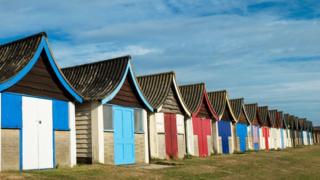 Beach huts in a Lincolnshire resort are to get a £110,000 makeover in an attempt to attract more holidaymakers.
Work on the row of huts on Mablethorpe promenade will be completed in time for the start of the 2017 season, East Lindsey District Council said.
Steve Kirk, who is responsible for coastal regeneration for the authority, welcomed the move.
"The beach hut is an important part of the seaside experience on the Lincolnshire coast," he said.
About half the money is coming from the Coastal Revival Fund after a successful bid earlier in the year.
More on this and other local stories from across Lincolnshire
It has also approved plans to invest £205,000 of cost-matched funding with local groups to redevelop huts at Sutton-on-Sea.
The beach huts have been at Mablethorpe and Sutton-on-Sea for more than 70 years.