Lincolnshire's chief constable criticises ambulance numbers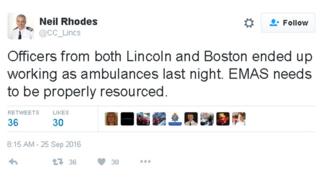 The chief constable of Lincolnshire has criticised a lack of ambulances in the county.
Neil Rhodes posted a message on his Twitter page claiming police officers in Lincoln and Boston "ended up working as ambulances last night".
He added that the East Midlands Ambulance Service (EMAS) "needs to be properly resourced".
EMAS said it was awaiting more information from Mr Rhodes "about which incidents he is referring to".
Pete Ripley, associate director of operations at EMAS, said: "We work closely with our colleagues in the Police to ensure that patients they encounter are properly assessed by our control team to determine what response they need."
Mr Rhodes is retiring from his post in February after serving as a police officer for 31 years.