Grantham A&E closure: New evening service set to start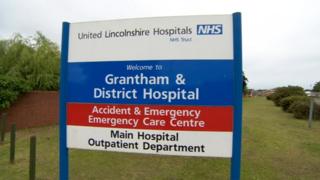 A hospital which has seen its A&E department temporarily closed at night due to a lack of doctors is to offer an evening walk-in centre.
The Grantham and District Hospital unit began closing early in August in a trial expected to last three months.
Lincolnshire Community Health Services NHS Trust said the walk-in would be open between 18:30 and 23:30 BST, seven days a week from Monday.
The trust said the service was not a replacement for the A&E department.
United Lincolnshire Hospital Trust, which is in charge of Lincolnshire's hospitals, said it was trying to recruit more doctors and would fully reopen Grantham's A&E as soon as possible.
The trust said the temporary closure at Grantham would enable to it maintain safe staffing levels at its two other A&E departments, both of which take a higher number of patients.
Martin Hill, leader of Lincolnshire County Council, said the new service was a step in the right direction.
He said: "It can't be right the hospital doors are effectively locked from 6:30 at night - that is just a ridiculous situation to be in."