Murderer Stuart Brownhill absconds from North Sea Camp open prison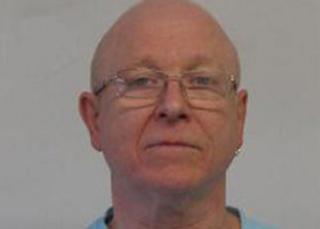 A convicted murderer has absconded from an open prison in Lincolnshire.
Stuart Brownhill, 59, was absent during a roll-call at 05:00 BST at the North Sea Camp prison, near Boston, police said.
He murdered Lynne Taylor while her 11-year-old son slept in their home in Werneth, Oldham, in 1984 and was jailed for life at Manchester Crown Court the following year.
Police have asked the public not to approach him.
More on this story and others news in Lincolnshire
Brownhill met Ms Taylor on a night out and later set fire to her home. He admitted he strangled Ms Taylor after trying to rape her and that he knew the boy was asleep in the property when he started the fire.
He is described as 5ft 8in tall, bald, and has a green right eye and a blue left eye. Officers believe he may be wearing a brown jacket and black boots.
The force have appealed for anyone who sees him to contact them immediately by dialling 999.
Officers said anyone with information on his whereabouts should call 101.