Investigation into Lincoln jail 'disturbance'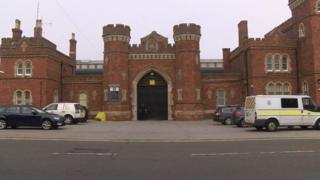 The Ministry of Justice said it is investigating a "disturbance" at Lincoln prison, but denied any staff were taken hostage.
A spokesperson for the ministry said the incident involved one wing and there were no reports of a fire or riot having taken place.
The incident began at around 09:45 BST and police were on site. There were no reports of any injuries.
HMP Lincoln is a category B prison and can hold around 700 men.
A spokesperson for the Ministry of Justice said earlier: "Staff are working to resolve an ongoing incident at HMP Lincoln.
"All prisoners are currently in their cells."