Controversial Skegness hotel gets planning approval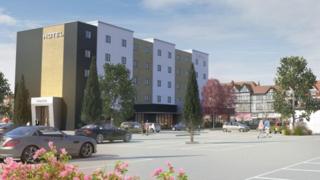 Plans to build an £8m hotel on a seafront site in Skegness have been approved.
East Lindsey District Council gave permission to Premier Inn to develop a 80-bed hotel on the Pier Field site.
Campaigners opposed to the scheme gathered a 3,500 signature petition and tried to keep the land as a green space by registering it as a community asset.
Conservative councillor Steve Kirk said the new hotel would be "positive" for the resort.
He said: "We need to welcome the fact that a multinational company is looking to invest on the Lincolnshire coast.
"I do appreciate that concerns have been raised about the lack of amenity space, but I think those concerns can be addressed within the district council."
'Open space'
Russell Sparkes, co-chairman of the Save Our Foreshore group, who owns a hotel opposite the site, said he had no problems with Premier Inn coming to the town, but claimed the location was wrong.
"It's an open space used for recreational purposes," he said.
"The government policy clearly states that there's one of three criteria that have to be filled and this application does not fulfil that criteria."
Richard Morton, of KCS Developments, said he was delighted at the planning approval.
"The development will deliver a boost to the local economy by generating additional spending and creating new jobs," he said.