Boston Stump church funeral Facebook appeal for Manfred Jaeke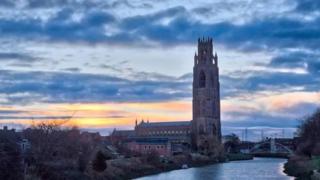 A vicar has called on people to attend the funeral of a man who she fears could be buried without mourners.
Manfred Jaeke, 61, was found dead on Porcher Way in Boston in July. A man has been charged with his murder.
Rev Aly Buxton of the Parish of Boston said Mr Jaeke had no known next-of-kin and faced a "particularly sad" send-off.
The ceremony will take place at Boston Crematorium at 10:30 BST on Thursday 1 September.
Boston Stump church, formally known as St Botolph's, posted on their Facebook page: "[Rev] Aly [Buxton] is taking the funeral of a 61-year-old man called Manfred who was unlawfully killed.
"He has no known next-of-kin and we believe no-one will be there.
"If this is as sad for you as it is for me please do feel free to attend or/and share this post. With love in Him."
Ann Wagstaff said on Facebook: "I've ordered him some flowers and I'll definitely be there, we all deserve someone, we all have self worth and are human beings, I'm sure he was a lovely man."
John Robert Baxter said: "Amongst these times of negative influences isn't it great to hear of kind hearted people. I am away so cannot go I am afraid... Will be thinking of Manfred and you all...."