Public consulted on final Boston Barrier flood plans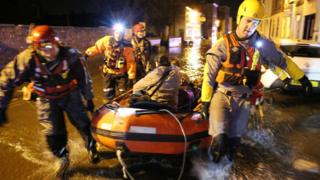 A consultation has begun on plans for a £100m flood barrier scheme in Lincolnshire.
The Environment Agency said the Boston Barrier would reduce the risk of tidal flooding to about 14,300 properties in the town over the next 100 years.
A final draft of the plans has been submitted to the government, with a public consultation running for the next six weeks.
If approved, work could start in December next year.
'Bells and whistles'
The scheme would see the construction of a new tidal barrier with a moveable gate across the River Witham and a new building to enable operation of the barrier, along with new flood defences on both banks of the River Haven.
Adam Robinson, Boston Barrier manager for the Environment Agency, said: "The barrier will give the area one of the best standards of tidal flood defence outside of London, so we'd like as many people as possible to see the... application and talk to us about anything they're uncertain about."
Additional plans to control water levels and make the Haven suitable for leisure boaters have been put on hold.
Councillor Peter Bedford, leader of Boston Borough Council, said: "The main objective for the Boston Barrier has always been to protect this area from flooding. That must remain the main priority.
"In Boston, it took two full years of misery and millions of pounds for many to return to anything like normal after the 2013 flood."
"In an ideal world, with endless finance, we would have all the bells and whistles. But the priority, in these cash-strapped times, is whatever we can get which works to protect against flooding, as soon as we can get it."
The Environment Agency said it would look again at work to allow greater access to boaters in the future.