Sculpture marks RAF Waddington's centenary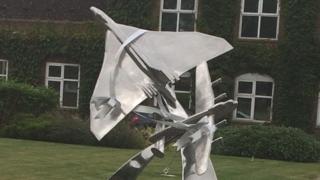 A sculpture marking the centenary of RAF Waddington has been unveiled.
The 7ft (2m) steel structure features the outline of an Avro Lancaster bomber, one of the aircraft that flew from the base in Lincolnshire during World War Two.
It also depicts a Vulcan bomber, an aircraft from the airbase that was used to attack Port Stanley during the Falklands War.
The work was created by sculptor James Sutton.
In addition to the aircraft, the sculpture depicts the towers of Lincoln Cathedral, which was used as a landmark for WW2 bomber crews returning from their missions in the dark.
Mr Sutton said: "I felt incredibly honoured to be asked to create the sculpture. It's a privilege to be part of such a special occasion."
Aircraft and personnel from RAF Waddington took part in the Augsburg bombing raid in 1942.
The station was also heavily involved in Operation Exodus, the repatriation of prisoners of war.
During the Cold War, the base had significant involvement with the Black Buck raids of the Falklands campaign.
In 2012, the RAF's first squadron of armed drone aircraft to be operated remotely from the UK was established there.